Cole Creek Sheep company was founded by P. C. Nicolaysen who emigrated from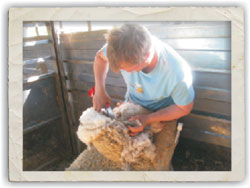 Denmark to the United States around 1880. P.C. was running sheep and cattle outside of Casper, Wyoming, as early as 1889. He also owned a lumber company and was involved with other businesses in Casper. His sheep ranged on Cole Creek northeast of Casper, and he consolidated his smaller livestock enterprises into Cole Creek Sheep Company in 1909. His descendants have worked on the ranch ever since. A true pioneer and founding father of Wyoming, P.C. and his family have worked hard to make Wyoming a good place to live.
Shelly started Cole Creek Wool after moving to the ranch with her husband Kem. She has an M.A. in Religious Studies, enjoys running and writes about her experiences on the ranch, among other topics. You can read an article from the Wyoming Livestock Journal about how she started Cole Creek Wool here: Link to story
Kem manages the ranch and sometimes shears Shelly's coated sheep. He has an M.A. in Literature, enjoys learning about Wyoming history and working with the livestock and wildlife on the ranch.